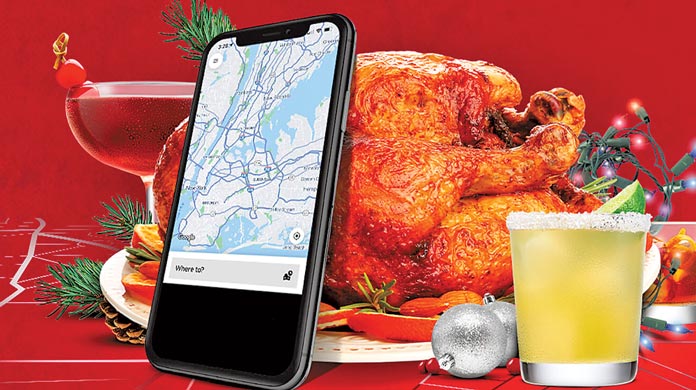 Know that old saying, necessity is the mother of invention? Sure sounds trite when you say it out loud, but the impact of the pandemic that bars, restaurants and liquor brands are currently struggling with couldn't make it ring truer. In 2020 this old adage is getting a new lease on life!
And it's not just that everything old is new again; in an era when persevere or perish mean embracing technology and new ways of doing business there are new solutions available.   These technologies provide innovative ways for brands and bars can tap to get drinks into consumers' hands in ways they couldn't before. Coupled with eased local liquor laws technology is enhancing and opening new sales channels, to make profitability possible once again.
Adoption of behind the scenes tech – like Barcart and OnFleet enables brands and bar owners to right their ships during this treacherous sales environment that doesn't seem like it's going back to normal anytime soon.  In July, a survey by PYMNTS found that nearly 36% of US customers were shopping online.  That's more than they saw shopping online in April at the earliest peak of the pandemic when most stores were closed. And nothing since then has indicated consumers are abandoning their online habits anytime soon.
That's great news for brands working with Adi Pal, Founder/CEO of Barcart, the e-commerce and marketing platform designed to allow alcohol brands to sell directly from their own website.  While keeping the existing regulatory framework in place by processing all orders through licensed retailers who procure the supplier's products via the normal three tier channel, Barcart's technology makes the customer experience simple.  And enhances the relationship between brands and consumers.  Pal explains, "By enabling e-commerce on a supplier's website, Barcart creates a whole new sales channel – in addition to on-premise and off-premise channels that exist – which translates into increased revenue and expanded reach, with the supplier firmly in control.  Since all sales are fulfilled via the three-tier channel, every participant in the supply chain benefits from this new sales channel coming to life."
He continues, "The platform provides commerce and marketing tools – a plugin which allows any website to enable e-commerce in a few simple steps and marketing automation tools which help reach new and existing customers and increase purchases. By improving the shopping experience for the customer, Barcart increases the purchase frequency and that translates into increased revenue for all participants. And finally, by leveraging our marketing automation tools, suppliers are able to reach more customers and increase the lifetime value of each customer they acquire through this channel."
While Barcart is focused on acquiring and delighting consumers shopping for their favorite bottles, OnFleet is all about keeping consumers informed.  Even though they may never realize they're utilizing OnFleet technology.
Ignorance is bliss, as long as the drinks show up on time. OnFleet, with its intuitive routing and dispatch platform that enables real-time communications and proactive delivery management, makes that possible.  The company's founder, Khaled Naim shares how they've helped beverage businesses satisfy during the recent surge in delivery demand, "As on-demand, instant delivery quickly proliferates, customers have come to expect lightning-fast deliveries with real-time status updates and will take their business elsewhere if last mile delivery services don't meet their high expectations.  If businesses want to not only survive but use this time to increase their revenue and market reach, they need to find a way to step up their delivery capabilities. Onfleet is the solution. guaranteeing fast, seamlessly executed deliveries, taking the hassle out of the delivery process and ensuring elated and loyal delivery recipients."
That level of loyalty bars and brands want from their consumers is similarly reflected in Onfleet's customer relationships after clients see increased operational efficiencies and consistent cost savings of 50% and  Naim notes, "All new customers, ranging from those brand-new to those running a vast operation, such as Onfleet customer Drizly (North America's biggest online alcohol distributor), experience immediate efficiencies. These translate into measurable improvements in fuel savings, route optimization, and streamlined analytics."
Pal finds similar successes for his client partners like Caravedo Pisco and Drifter Spirits.  He remarks, "We were able to help many brands launch during the pandemic and they found success despite the overwhelming odds against it. On the other end, we have numerous retail partners for whom the increased order flow from the online sales channel has supplanted lost revenue. We have also been able to partner up with brands to do exclusive releases where a part of the profits has benefited industry associations and charities."
In an industry that was decimated by the pandemic, bar owners, like Michael Neff of The Cottonmouth Club also benefitted from technology that not only helped them get actual drinks to customers, but also the whole bar experience.  Neff took his bar to the airwaves, so to speak, turning his nightly shift behind the stick into a virtual nightly experience of integrated programming on YouTube, Instagram and Facebook.
This meant learning new skills like audio engineering and podcast editing and marketing; skills he turned to programs like Auphonic, Lumafusion, and Buzzsprout to help with. Neff admits that technology has been a saving grace during the pandemic, " Ask me a year ago about my virtual bar and I would have thought you were nuts.  I would have said, don't stay home and watch me, come and watch me here at the bar.  But that's all changed.   The work comes because everything produced has to be marketed and anything from making and optimizing websites – everything has some sort of service you pay for or wish you could pay for.  And you have to build it.  It takes hours of learning how to do what you're paying for.  The blessing of the early part of the pandemic was that we didn't have options to open, so if we wanted to stay afloat we had to do something and there's no way on earth I would have had the time, inclination and inner fortitude to do all I had to do to learn this if it hadn't been for the pandemic."
He concludes, "The existence of technology has allowed me to maintain business presence and allowed me a public sphere when we didn't have an actual public sphere. It has substantially altered our presence in the city of Houston for sure.  Technology allowed me to bring other people on to advocate at the same time, to rail at the governor, to let other places around the country know they were not alone and to say I'm doing it at this bar in Houston.
A bar that, thanks to technology, will hopefully still be sliding drinks across the bar to guests seated there once the pandemic is behind us.
---
SIPS TO SAMPLE
While the trade finds new life in technology, the end of 2020 warrants a whole new way to look at what's in our glass. Hence, Proteau. Made in New York by renowned bartender and hospitality expert John deBary, Proteau is a botanical non-alcoholic aperitif. Ludlow Red is perfect for a cold winter night by balancing notes of blackberry, chrysanthemum, black pepper and dandelion in just 30 calories per serving. It pairs beautifully with a savory meal or all on its own. Drinkproteau.com.