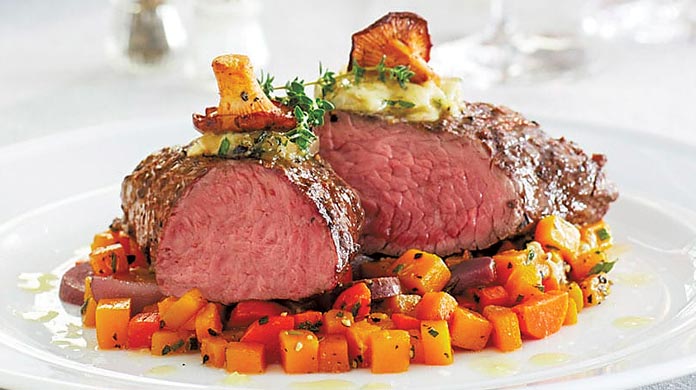 Over the course of this past year, the restaurant and foodservice industry has been reshaped by the pandemic. Forced to close their doors, restaurant owners and food service operators had to shift their business models to focus on takeout and delivery. Now with restaurant doors reopened, owners and operators will need to adjust some of their ingredients to reflect the return of in-restaurant dining and support the newly acquired "to-go" avenue streams.
According to a new study commissioned by Tyson Foods and conducted by Technomic, the restaurant and food service industry is looking to condense and streamline their ingredient and menu component orders. The study titled, "Fresh Meat Purchasing, Menuing and Influences Among Restaurant Operators," focused on the purchase and use of fresh beef and pork. The research consisted of surveying one hundred and fifty chefs and menu decision makers across fast-casual and full-service restaurant spaces.
"We are not there to provide meat, we are there to provide solutions," said Ozlem Worpel, director of marketing, Tyson Fresh Meats. "We believe that if we are going to position ourselves at Tyson as experts, and propose solutions, that we need to first understand the issues and needs of our customers. That is why we do the market research and partner with companies like Technomic, to be able to understand the common issues that face the foodservice industry."
One of the common issues that the Tyson and Technomic teams identified through the survey, was the mindset owners and operators have when considering the role of the price of beef and its profitability. "The findings on both pork and beef were very similar, except for when it came to the operator's perception of the cost – profit ratio of beef," said Worpel. "Beef is a higher priced element than pork, which causes the operator to rely heavily on the percentage of total food cost when considering the profitability of an item. This way of thinking obscures the fact that a smaller percentage sold of a higher priced menu item, like beef, can still result in a larger profit when compared to selling a larger percentage of a less expensive item such as pork." Worpel continued, "this was one of the findings that we wanted to help our customers consider more when they are looking at ingredient choice."
In addition to adjusting how an operator looks at their total food cost, sales and profit, the study found other ways that restaurants and food service operations can rebound from the pandemic. "The study found, and we encourage our customers to utilize limited time offers (LTO's), when it comes positioning new menu ideas," said Worpel. "You cannot tell if something will hold a permanent place on your menu without first trying it. You have to try an item and make sure that the customers connect with the flavor, the taste and the cut of meat that make up your new dish. Limited time offers are an opportunity for our customers to try different things, to see what their customer response will be to a new dish, in addition to seeing if that dish is profitable."
The study also found that in addition to utilizing a variety of ingredients in an assortment of ways, that there is an increase in demand for fresh, all-natural, antibiotic free ingredients especially when it comes to beef and pork.
"We look at our products in two ways, the first way is the quality attributes of the product and the other way is the production attributes of the product. Quality attributes include high choice cuts of meat, better marbling and various other taste related attributes," said Worpel. "On the other hand, production attributes include being antibiotic and hormone free. The emphasis on fresh, natural and no antibiotics is drawn by a health-conscious consumer, one who is making a life choice about what they want to eat."
---
For industry professionals interested in learning more about the study, information can be found online. For those who are interested in more information, visit the Tyson Fresh Meats Foodservice website.