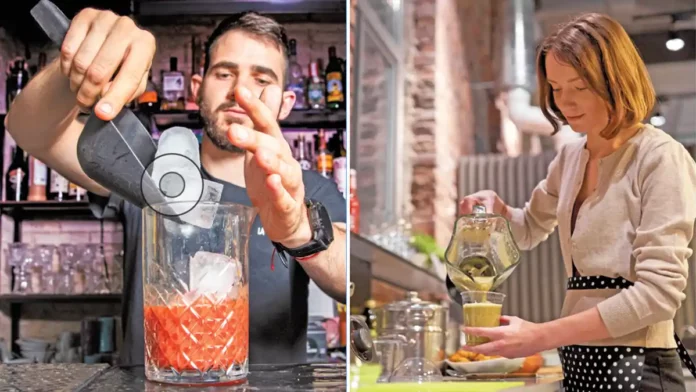 ---
Article contributed by John Mahlmeister, COO, Easy Ice
---
If you're a business owner who's never thought about ice much, you might believe restaurants and bars only need one type. Think again!
The two major categories of ice serve totally different purposes. Which one should your business use? Should you have both?
Let's find out.
Cubed Ice vs. Soft Ice
When most people think of ice, they think of cubes — the hard, dense ice that you can freeze in trays and find in most restaurant and bar beverages. Cubed ice is the most common kind of ice in the industry for practical reasons. Due to its density and hardness, it has a slow melt rate. That means it will keep drinks colder longer, without watering them down too quickly. Whether you're serving water, soda, cocktails, or high-end liquor on the rocks, cubed ice. 
Soft ice is just the opposite of cubed. It's highly chewable, porous, with a fast melt rate. Why would any restaurant or bar owner choose soft ice over cubed? The two major reasons are customer experience and blended drinks.
A specific kind of soft ice—nugget ice—is one of the most popular types in America. People love chewing on nugget ice after it's soaked up whatever drink they ordered. While it does melt faster than cubed ice, it's not usually a problem with highly flavored drinks.
If you serve frozen cocktails or smoothies, soft ice is a must. Cubed ice is too hard on blender blades and will shorten the life of your blenders. Soft ice is much easier to blend and won't damage blender blades.
Types of Cubed and Soft Ice
Cubed ice includes both standard cubes and specialty ice. Standard cubes come in different shapes like Hoshizaki's crescent ice, Manitowoc's rhomboid "regular" cube, and Manitowoc's dice and half dice ice. Standard cubed ice is the most common in restaurants and bars, as it's the ice type with the most versatility. Crescent ice, for example, fits any and every kind of beverage—whether you're serving soda, water, liquor, cocktails, tea, or juice, the crescent cube will look and function perfectly.
Specialty cubes, on the other hand, are exactly what they sound like. They're ice cubes designed to make a statement, best suited for craft cocktails or for businesses who want to incorporate ice into their branding. Specialty cubes are typically either perfect squares—average size or giant—or spherical. Several brands manufacture square ice machines, but only Hoshizaki makes sphere ice machines.
Soft ice has fewer subtypes than the cube category: nugget and flake. Nugget ice—also known as cubelet, chewblet, Sonic ice, etc.—is a little denser than flake and typically features a more solid shape. If you want ice that will soak up syrupy drinks or soda without melting too fast, choose nugget ice. Flake ice is more often used for product displays like seafood buffets or salad bars. Either type of soft ice works well for blended cocktails and smoothies, but most business owners serving these beverages will choose nugget ice.
Do You Need Both Cubed Ice and Soft Ice?
The answer depends on two factors:
• The drinks you serve
• Your business's brand
Do you only serve water and soft drinks? Is your business a coffee shop that doesn't serve blended drinks? Then you'll do just fine with cubed ice alone.
Do you serve frozen cocktails in addition to other adult beverages? Or syrupy drinks mixed in-house, like cherry limeade and flavored teas? Then, you'll need soft ice, in addition to cubed.
Company branding comes into play if you're aiming for uniqueness, a specific style or ambiance, or more menu diversity than your competition. Using both cubed and soft ice can help you stand out, create a bigger and more varied drink list, and enhance the personality of your restaurant or bar.
Whether you're starting a new business or considering a change in ice for your established business, don't be afraid to choose both cubed and soft ice. Renting one or both of the ice machines can make it more affordable if you don't want to purchase two new ice machines at once. However you choose to acquire the equipment, using both cubed and soft ice can make a big, positive difference for your business if you do it for the right reasons.
---
John Mahlmeister is the chief operating officer and co-founder of Easy Ice. Co-headquartered in Phoenix, AZ and Marquette, MI, Easy Ice is the national leader in the full-service ice machine subscription industry with warehouse and distribution facilities in Chicago, Dallas, Kansas City, Orlando, and Denver. Since its founding in 2009, Easy Ice has rapidly grown the number of ice machines under management to over 30,000 units across 47 states. The Easy Ice commercial ice machine subscription programs include installation, cleaning, preventive maintenance, repairs, and backup ice. For more information, please visit EasyIce.com. Find them on social media at Facebook, Twitter, and LinkedIn.